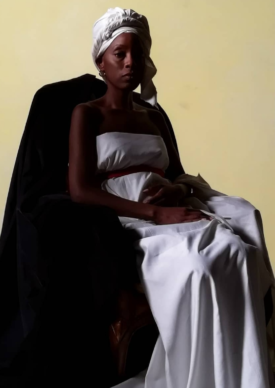 DVD_COMMANDE
[contact-form-7 id="153" title="commande"]
DVD_REPONSE
DVD_ERREUR
For PRISM Belgian filmmaker An van Dienderen invited Brussels based Rosine Mbakam from Cameroon and Paris based Eléonore Yameogo from Burkina Faso to work together on a film in which the differences in their skin color serves as a departure to explore their different experiences with the biased limitations of the medium. Photographic media are technologically and ideologically biased, favoring Caucasian skin. 
Such white-centricity means that the photographic media assume, privilege and construct whiteness. How can we, three makers with different colors of skin, be together in one frame? And how can we create a common film on this topic? The film problematizes the objectivity of the camera and its inequality of power to tackle other inequalities in society based on skin color. 
While the film deconstructs these issues, it also tries to reconstruct by creating a film in a collaborative manner, which overcomes these biases. We envision PRISM as a chain letter, interweaving scenes made by the three filmmakers in dialogue with each other.
Rosine's scenes are the most personal. She interviews two former film professors of hers about their focus. These scenes are interwoven with a reenactment of the Portrait d'une négresse by Benoist and culminate in an attempt to film herself, her white husband and their son in one image. 
Eléonore's scenes are more narrative: she films actress Tella Kphomahou, talking about problems she encountered with the lighting of her skin. Tella has conversations with a director of photography of color on this topic, and with French-Senegalese director Alain Gomis. 
An's scenes are more abstract. They are shot at the film school where she teaches. The scene travels from the school's yard to a studio, where the setting evokes a color test scene, portraying a white man and a woman of color. 
PRISM is more than the sum of the different visions of the directors. Additionally, recorded zoom conversations are edited throughout the film in which the directors discuss their viewpoints, and the making of PRISM. To tackle the issue of racism in Western film making, PRISM thus creates powerful counter images in a co-creative flow that connects documentary and fictional codes.
Director
Rosine Mbakam, Eléonore Yameogo & An van Dienderen
Editing
Effi Weiss, Nina de Vroome & Geoffroy Cernaix
Production
Natalie Gielen
Partners
Beursschouwburg, KASK & Conservatorium School of Arts Ghent, Argos, Museum Dr. Guislain, Courtisane, LUX, Videonale
With the help of
VAF - FilmFund in Flanders, Africalia, De Stad Gent
from 8 to 9 novembre
Laemmle Theatres (Los Angeles)
from 27/10 to 2/11/2021
National Gallery of Art - VR (Washington)
from 7/11 to 10/11/2021
Gene Siskel Film Center (Chicago)
from 12/11 to 2/12/2021
Gene Siskel Film Center (Chicago)
29/11/2021
The DocYard (Cambridge)
from 3/12 to 19/12/2021
The DocYard (Cambridge)
from 8/10 to 14/10/2021
BAM Film (Brooklyn)
12/11/2021
Lightbox Film Center (Philadelphie)