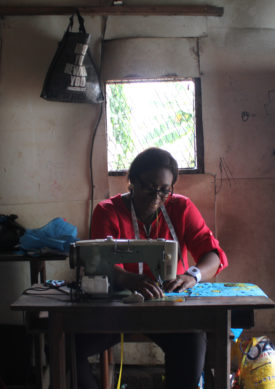 DVD_COMMANDE
[contact-form-7 id="153" title="commande"]
DVD_REPONSE
DVD_ERREUR
In the Douala rain, water overflows from the gullies and spreads out into the streets. People go about their business, looking for any space without water to put their feet on.
Pierrette resignedly empties the water that came into her house with the help of her children. Arriving in her sewing workshop, the same ordeal begins again. Pierrette is exhausted when she gets behind her sewing machine to work.
One by one, the clients parade through her workshop with only one word in their mouths, the preparation for the new school year. Pierrette has not bought everything for her children. Concentrated, Pierrette pedals without slackening her gaze fixed between her machine and the outside looking for the slightest movement of the clouds. Pierrette is ready to react if the slightest drop of water falls.
Her days are long and dense, the expectation of her children is great, but will the rain of Douala let Pierrette offer a beautiful school return to her children?