Film
Team
Diffusions
Récompenses
Trailer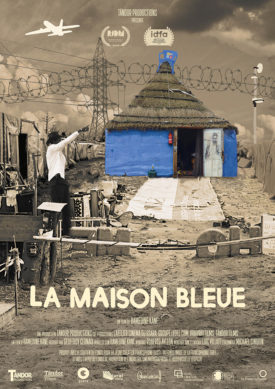 DVD_COMMANDE
[contact-form-7 id="153" title="commande"]
DVD_REPONSE
DVD_ERREUR
Through this intimate portrait of Alpha, the director's childhood friend, The Blue House highlights the problem of the forgotten European migrant camps. Exceptional territories where attempts at resistance arise, such as those put in place by Alpha in his habitat and artist studio, a place where a poetics of relationship is built to defy the desolation of bodies and the violence of politics.
This film is part of an artistic sublimation approach of a man, an artist, a friend, an exiled set in the heart of «La Jungle», a refugee camp in Calais.
The Blue House being both Alpha's plastic work and Hamedine's film, constitutes a space where the will to oppose assignments, designations and relegations is expressed. It is a journey between two paths, between two worlds. It is a journey to confront. It is a journey to put an end to an escape.
Media Format
DCP/BLURAY/DVD
Directors of photography
Hamedine Kane
Sound editing and Mixing
Loïc Villiot
Color grader
Studio Charbon
Production
Tandor Productions
In coproduction with
Tândor films, Gsara, Goupe Lydelcom, Vraivrai films
2021
Vue d'Afrique, Montréal (CA) – Sélection Officielle
2020
RIDM, Montréal (CA) – Sélection Officielle
2020
IDFA, Amsterdam (NL) – compétition internationale