The Two Faces of a Bamiléké Woman
Film
Team
Diffusions
Récompenses
Trailer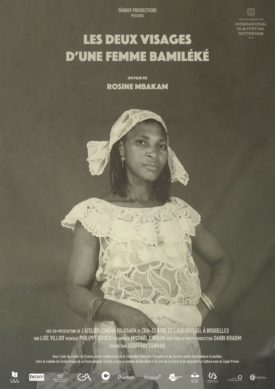 DVD_COMMANDE
[contact-form-7 id="153" title="commande"]
DVD_REPONSE
DVD_ERREUR
My name is Rosine Mbakam. I am 34 years old, I am from Cameroon where I grew up respecting traditions until I was 27. In 2007, I left to continue my studies in Belgium. This is the first time that I leave my country.
My mother's name is Mâ Brêh in Bamiléké. She is 68 years old and has always lived in Cameroon. She grew up in the maquis where her family, like many others, fled the repression of French colonists. She was married at the age of 18 to a man her parents introduced her to.
The film is a face to face confronting and questioning the choices of the two women. Two generations looking at each other. Two women who discuss their intimacy, their sufferings and their desires.
Media Format
DCP/BLURAY/DVD
Directors of photography
Rosine Mbakam
Color grader
Michaël Cinqui
Production
Geoffroy Cernaix, Tândor Productions
In coproduction with
L'Atelier Cinéma du GSARA, CBA - Centre de l'Audiovisuel à Bruxelles
Produced with the help of
Centre du Cinéma et de l'Audiovisuel de la Fédération Wallonie-Bruxelles, du fonds image de l'Organisation Internationale de la Francophonie et de Brouillon d'un rêve de la Scam et du dispositif La Culture avec la Copie Privée
Avril 2017
Afrika filmfestival - Leuven (Belgique)
Mai 2017
AfryKamera – Varsovie (Pologne)
Mai 2017
Festicab - Bujumbura (Burundi)
Juin 2017
DO PÃO - International Documentary Film Festival - Albergaria-a-Velha (Portugal)
Juillet 2017
ZIFF-Zanzibar International Film Festival (Tanzanie)
Juillet 2017
Sole Luna Festival - Palermo (Italie)
Juillet 2017
African Diaspora International Film Festival - Washington (Etats-Unis)
Juillet 2017
Festival Ecrans Noirs - Yaoundé (Cameroun)
Juillet 2017
FIDBA - Buenos Aires (Argentine)
Juillet 2017
Festival de Laignes (France)
Août 2017
Journée Brouillon d'un rêve documentaire - Lussas (France)
Août 2017
AM Egypt Film Festival - Le Caire (Egypte)
Août 2017
Lakecity Film Festival - Lagos (Nigeria)
Août 2017
MZANSI WOMEN FILM FESTIVAL (Afrique du Sud)
Septembre 2017
African Diaspora International Film Festival - Paris (France)
Septembre 2017
Silicon Valley African Film Festival (Etats-Unis)
Septembre 2017
Sole Luna Festival - Treviso (Italie)
Septembre 2017
Marquee on Main (Etats-Unis)
Septembre 2017
FIFF-Festival International du Film Francophone de Namur (Belgique)
Octobre 2017
Sélections de la 26ème Quinzaine du cinéma francophone – Paris (France)
Novembre 2017
African Diaspora International Film Festival - New York (Etats-Unis)
Novembre 2017
Filmer à tout prix - Bruxelles (Belgique)
Novembre 2017
Udada Festival - Mama Afrika Film Festival (Kenya)
Novembre 2017
7th Africa International Film Festival (Nigeria)
Décembre 2017
Festival du film documentaire de Saint-Louis (Senegal)
Décembre 2017
DIFF Delhi international Film Festival (Inde)
Janvier 2018
Eko International Film Festival (EKOIFF)
Janvier 2018
International Film Festival Rotterdam (Pays-Bas)
Février 2018
MiradasDoc Market (Iles Canaries)
Février 2018
West African Film Festival (Etats-Unis)
Mars 2018
JCFA – Fespaco, Ouagadougou (Burkina Faso)
Mars 2018
Festival Sguardi Altrove (Italie)
Mars 2018
Festival Doc, Doc, Doc, entrez ! - Villedieu (France)
Avril 2018
Festicab (Burundi)
Mai 2018
Dok Fest Munchen (Allemagne)
Juin 2018
New York African Film Festival (Etats-Unis)
Juin 2018
Festival London Feminist
Juin 2018
Festival Scope Pro (Intl)
Juillet 2018
Festival Sainte-Livrade
Août 2018
Festival cinéma d'Afrique de Lausanne
Novembre 2018
Festival d'Apt (France)
Festival London Feminist
Premier prix documentaire
Afrika filmfestival
Prix de Vlaamse Unesco Commissie
DO PÃO - International Documentary Film Festival
Premier prix documentaire
Festival Ecrans Noirs
Mention spéciale du jury
FIDBA – Buenos Aires
Meilleur documentaire première oeuvre & Mention spéciale jeune public
Festival du film documentaire
de Saint-Louis mention spéciale catégorie
long-métrage documentaire
Filmer à tout prix – Bruxelles
Mention spéciale du jury